We don't have time to scour every Mill Road event in order to publish it here. But here's where anybody holding any event in or around Mill Road can add their event in the comments section. And don't forget to include a link to your own website.
---
Cricket and Art – Parker's Piece

---
Tuesday, 14 May, 7:30 pm–9:00 pm
Ross Street Community Centre, Ross Street, Cambridge, CB1 3UZ
£3
Susan Woodall talks about life inside for the women who passed through the doors of this moral reform institution. Preceded by Mill Road History Society's Annual General Meeting .
Find out more »
---
6TH ANNUAL EXHIBITION COMING SOON!
13TH-18TH MAY 2019,
ST BARNABAS, MILL ROAD, CAMBRIDGE CB1 2BD
For more information and enquiries on upcoming exhibitions contact jess@fromthestudiofloor.co.uk, or click any of the links in this post.
More about From the Studio Floor.
---
---
This event is just a little way off Mill Road, but within Petersfield and, we think, worth a mention.
Becks' World Land Trust Ceilidh
Hi there! I'm Becks and I'm on a mission. Over the next few years, I have set myself a challenge to raise £5000 to save 50 acres of Rainforest for my favourite charity, the World Land Trust. I'm setting myself crazy challenges to reach this target, so keep an eye on my Facebook page for updates! I've raised just over £1500 so far, protecting 15 acres of beautiful Rainforest forever, thanks so much for all of your support!
The last couple of Ceilidhs have been so much fun, so I've organised another one for Saturday May 25th 2019!! The incredible Cambridge University Ceilidh Band will be playing for us at St Pauls Church, Hills Rd, Cambridge CB2 1JP and we will have a drinks bar, a raffle (with incredible prizes, including sponsors from all over Cambridge which I am super grateful for) and much more! Come and join us for an unforgettable evening of country dancing, music and laughter!
Tickets: Are ONLY £8 in advance (£10 on the door) and include a FREE glass of bubbly in our sparkling drinks reception. Please visit my Facebook page: World Land Trust Ceilidh Cambridge 25.05.19, or email me for event tickets. Pre booking is strongly recommended because places are limited. It would be great to see you there! ☺
---
---
Mill Road History Society event: Na-Mara
Tuesday, 18 June, 7:30 pm–10:00 pm
St Barnabas Centre, Old School Hall, St. Barnabas Church, Mill Road, Cambridge, CB1 2BD
£8 – £10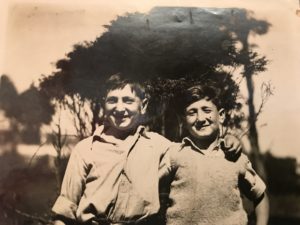 In May 1937, a month after the bombing of Guernica, 4,000 young children were evacuated from Bilbao to Southampton aboard the SS Habana. Through words and music, Rob Garcia (the son of a niño) and Paul McNamara will tell their story.
Find out more »
---
---
Mill Road Winter Fair is an annual event, on the first Saturday of December, so this year it's on Saturday 7th December 2019. Click on the Mill Road Winter Fair logo above to go the their website, and a gallery of photos from previous years. Mill Road is closed to all motor traffic from its junction with East Road to the Coleridge Road junction, during the fair. Stagecoach's citi2 service diverts via East Road, Newmarket Road, Coldhams Lane and Brooks Road.
Mill Road Winter Fair is brought to you by a small team of Cambridge residents who work together throughout the year to organise the Fair.
Click here to find out more about what happens at the Fair.
Click here to volunteer.
---
What counts as an 'event'?
Here are a few examples…
A public meeting about the issues of Mill Road, or new housing developments, or the volume of traffic, or parking or cycle/pedestrian safety, in and around Mill Road.
A local Residents' Association meeting.
A music gig (free or paid entry) at a local pub, café, church-hall or other venue, in and around Mill Road.
Open mic music or poetry nights, in and around Mill Road.
Quiz nights, in and around Mill Road.
Charity fundraising events, in and around Mill Road.
Charitable sporting events, in and around Mill Road.
Children's activities, in and around Mill Road.
Clothes-Swap events, in and around Mill Road (like the one in early November at The Edge Café).
An open day at a mosque, church, chapel, temple or non-religious venue to reach out to the community, in and around Mill Road.
And what doesn't count as an 'event'?
Buy-one-get-one-at-a-special-price in our shop.
Special meal nights in our pub/café/restaurant.
Football/rugby/cricket/whatever on our large-screen in our pub.
We're sure you get the picture.
---